Academics
Woodard is an AVID National Demonstration School and a school-wide site of distinction. Woodard is the only school in Yuma County and one of only a few schools in the nation to hold this distinction. For more information, please visit the AVID site.
Now offering college level courses!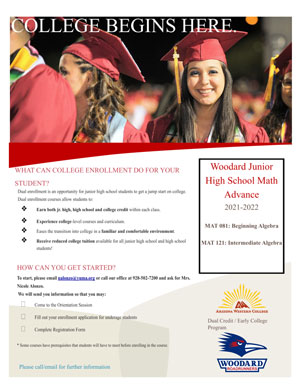 Woodard is now offering college-level courses on our campus! Via our advanced learning tracks, our roadrunners can take advantage of this academic opportunity. Sixth and seventh graders can qualify for advanced math, ELA, and science courses. Eighth graders can take advanced courses and may also take our Arizona Western College math course that earns eighth grade math credit, high school credit, and college credit. We are currently enrolling in this program. If you have an interest, please email Nicole Alonzo for more information or read our college enrollment information flyer.